Now that the engine is semi-prepared and still worked on, next phase is to clean up engine bay, remove un-necessary hardware/mounts and make sure that the LS will fit inside and lastly make up new mounting for the engine.

2008-08-19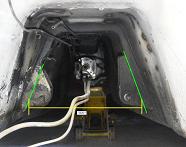 Original transmission mounts as they where when the car came from factory.
on the lower part the tunnel is 13.5" wide which makes 2" clearance on each side of the tunnel when the 4L60 will go in. Not sure how this will look like and how much clearance there will be for fuel lines, electrical, drive shaft and dual exhaust
2008-08-23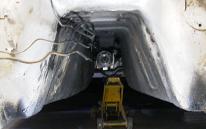 After removing them the tunnel is so much bigger, the cut out ears will be perfect mount points after relocating them.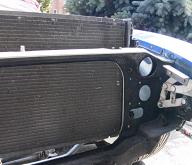 For for fun, this is the Camaro radiator i pickup with the engine. its 2 inches to wide on each side so it can not drop any lower then the rails and makes it stick up above hood line


The picture does not show how the mount will look like, I'll have to remove the engine from the bay to finish setting it up and make final plates to adopt the LS1 engine mount. In upper left corner there is starter which makes me worry on how to make the headers and have it going out words.
Extended frame rails closer towards the center which are going to be used as perches so that engine mounts would be welded to it. I think that this arrengement gives greatest flexibility and allow very safe engine mounting

2008-08-28




Had some time to look around for clearances around the transmission today. I'm actually very surprised that it clears as it does. the tunnel is very narrow and the trans is considerably large, if it was mounted on hard mounts it would be ok the way it is. However since it will be mounted on factory rubber mounts and due to the movements there are 2 locations that will need to be adjusted. First one is at left (drivers) side, the Skip Shift Solenoid connector will be in a way and will brake if the original brace would be left alone. From what it looks like it needs additional half inch of clearance for the connector. On the right side, reverse switch connector and guard will be in the way as well. I'll have to knock the tunnel in to give additional clearance.


2008-09-28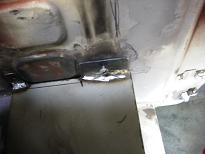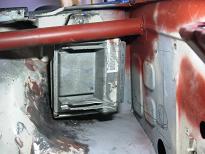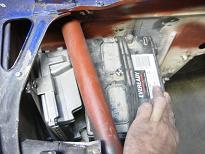 Few changes has been made since last update. Original battery tray has been removed to clear the corner so that it can be reworked/widened and that the battery can be lowered down and made removable via removing 4 screws 2 on firewall & 2 on inner fender (top left) and turned 90' to accomodate engine PCM behind hiding roll cage bar running from inside of A-pillar cage and connecting front shock tower (top)
Engine PCM and battery tightly tucked in in original battery location (left)
AaaHHHH finally, engine bay is cleaned up.
Anything that needed to be removed, cleaned up reworked, manufactured and welded in is coated with rust proofing undercoating paint (Rust Destroyer). Manufacturer guarantees for 5 years against rusting once applied to dry clean surface then painted over with top coat paint. And the bonus of it is that it withstands 800'F, perfect for cramp high temperature engine compartments !!!!
The bay will still get regular high build primer and some welding joints will be smoothed out and get final coat of paint
February 8 2009
Though the this page has not been updated for some time there has been some work done and can be seen in the gallery page.
2008-10-06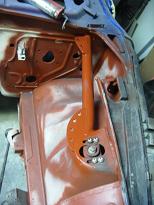 Last addition to the bay was to add mounting support on the shock tower cage extensions. The tabs will provide X and tower braces thus stiffening the front chassis.
2008-10-07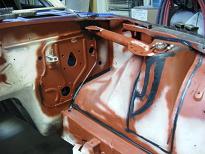 Since all the loose seal was removed during the cleanup, fresh expanding joint sealer was applied to areas and to those that never had it. This I hope will prevent moisture of getting into those areas and rotting the metal
Could not wait for this time, finally primer on all the clean up metal
2008-10-13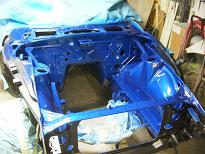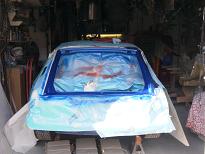 More pictures in gallery
2008-10-24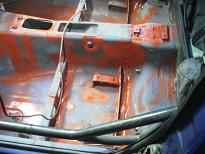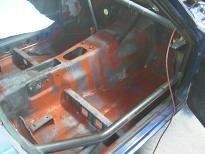 On with the interior. For some reason the POR15 did not stick to the surface. over few months number it started peeling off and surface rust started to get formed. The other thing that was omitted was under the dash area. Original factory paint was so thin that it started to get surface rust as well even though it was way off from the floor boards. Some rust neutralizer will take good care of it at a fairly expensive rate though.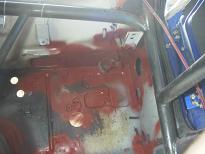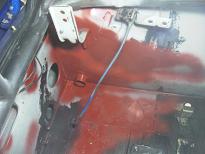 2008-10-27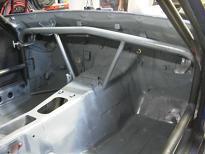 This is so much better looking. all rust cleaned up and even though it does not have that uniform black look it does have high durability gray enamel paint that will stand to brake fluid spills.